Weigh & Fill Systems for Your Small Business | Custom Solutions | Expert Support

Need to Chat or Ready to Buy?

Call us at (802) 425-2888
Click above  to virtually build your customized machine.


We manufacture the leading automatic weigh & fill machine that will help you seamlessly transition from hand-bagging to automation!
The Logical Machines Model S-4 Automatic Scale System
Weighs and fills using high accuracy & speed

For use with your free-flowing product like coffee beans, ground coffee, popcorn, snacks, seeds, grains, powders, and much more!

Weights between 0.01 oz. to 10 lbs.

Speeds of up to 600 fills/hour

Interfaces with automatic bagging machines

Arrives fully assembled and ready to run

Starting at $7,650 with customizable features
How the Model S-4 Works with Your Product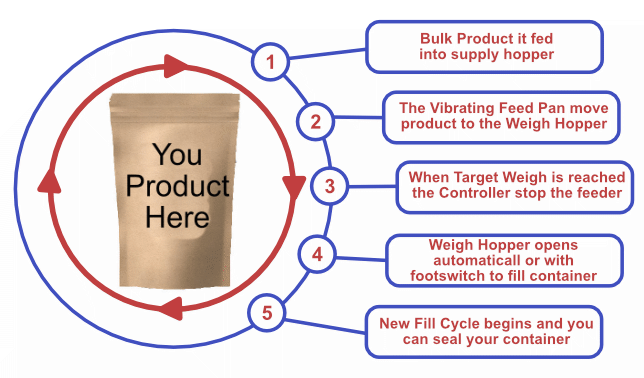 Customer Focused
Developed with our small-business customers in mind, we offer superior machines to maximize your return on investment by saving on time and labor costs.
Top Quality
Created with proprietary software. All machine components are from top-shelf American manufacturers and are assembled and tested by our team in Vermont.
No Hidden Costs
We provide full transparency in machine costs and freight. Our machines are thoughtfully designed so

We've created the Perfect Filling Machine for a wide range of products including:
(Click on an image to learn more)
Quote Generator
Configure your Scale
Use the convenient Quote Generator to configure the weigh+fill scale system that suits your needs
We're happy to assist in putting together the best system for you!
Quick Start
SMART Mode
Just 3 simple steps to set up your Logical Scale
Our exclusive SMART Mode Controller gets you filling product in a matter of minutes!
What do you
need to weigh+fill?
Check out our video library
We've compiled a long list of videos showing our Scales Systems filling a wide variety of products.  Visit our Sample Video page to view videos of our Scales in action!
"Our S-4 has been incredible and absolutely trouble-free for 10 years. We've run hundreds of thousands of pounds of coffee through it." 
Brett, Java Java Coffee
Please Notice: Logical Machines will only support Scale Systems that are purchased either directly from Logical Machines or through our network of Authorized Distributors. We will not be responsible in any way for any Scale System that is purchased outside of these two authorized sales channels.