Summertime and it's getting Fancy – Fancy Food Show in NYC in June – G+V+L: Variety of products – Logical Q & A: Vermont Factoids – National [fill-in-the-blank day] – Logical Flow Videos — Logical Quotable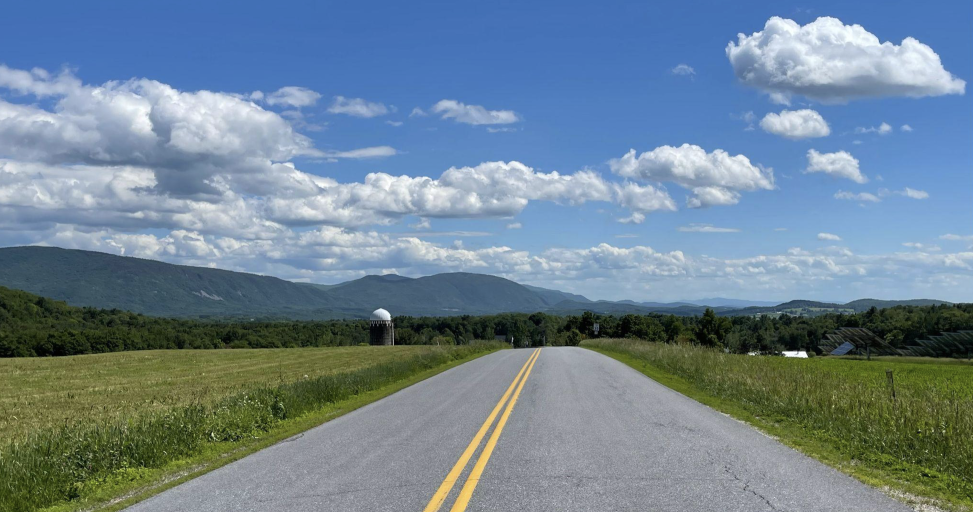 Welcome again to the Logical Machines blog post area, Gravitas. Hello from the (now very) Green Mountain State of Vermont! We hope you're enjoying the weather where you are.
"In early June the world of leaf and blade and flowers explodes, and every sunset is different."
– John Steinbeck
Welcome to June 2022! Logical Machines is, as always, here to provide you with speedy & accurate weigh+fill solutions. You have products to package and we can assist you with that.
Since 1994, Logical Machines in Vermont, a small business itself, has provided solutions for small- and medium-sized businesses (SMBs) and their weigh+fill packaging needs for dry, free-flowing products. For 25+ years and counting, 28 years to be exact, Logical Machines continues to hand-assemble fast, accurate, reliable, durable, high-quality affordable, weigh+fill scale systems for SMBs, right here in the U.S.A. Many of our scale systems are still in use for 10, 12, 15+ years. Long-time customers are quite often repeat customers, purchasing more Logical Machines as they expand their business.
Logical Machines has mastered leveraging Gravity + Vibration + Logic. We offer a balance of simple yet sophisticated machines that can easily be integrated into larger packaging systems. We're Vermont-based with a global reach. And, 28 years later, we have customers on five continents; we speak four languages (English, Spanish, French, and Portuguese); and with a wide range of products tested since 1994, we also speak a variety of "product languages".
Tell us your SMB packaging problems and we likely have a solution for you. It's only logical.
---
Gravity + Vibration + Logic:
The Fancy Food Show is in NYC on 12-14 June 2022. The Specialty Food Association's 2022 Summer Fancy Food Show is the largest U.S. show devoted exclusively to specialty foods and beverages. The 2022 Winter Show in Las Vegas hosted about 10,000 in-person participants. The Summer Show is expected to be larger, with a greater number of domestic and international exhibitors, with more opportunities to network and get business done.
Did you know that there is also a Vermont Specialty Food Association? The VSFA represents a thriving community of specialty food producers from all corners of the Green Mountain State and includes many of the small family-owned and operated businesses that sustain the working landscape of Vermont. You'll find Vermont specialty items online and in your local supermarkets, gourmet and natural food shops, Co-ops, and country stores. You can visit the members at trade shows, craft fairs, local store demos, and farmers' markets. As they say at the VSFA, "Try a taste of Vermont today!".
And then there is the NOFA organization. That's the Northeast Organic Farming Association of Vermont. It promotes organic practices to build an economically viable, ecologically sound and socially just Vermont agricultural system that benefits all living things. NOFA promotes a more verdant, viable, and just Vermont food system.
Just like the SFA, VSFA, and NOFA, Logical Machines works with companies that offer a wide variety of products. Our weigh+fill scale systems have proven to be a great packaging solution for a plethora of products, including (click to see videos!): Snack foods, Grains / Nuts / Beans / Legumes, Herbs / Spices / Baking ingredients, Pastas, Fruits / Vegetables, Candy, Frozen foods, Coffee / Teas.
The common element amongst and between the variety of products that work well on our scale systems is that they are dry. If there is some level of moisture to your product(s), please consult with us and we will determine if the product(s) will work with our scale systems.
Please let us know if you have any questions about our weigh+fill scale systems for any of the above-mentioned products, or any other product(s) that you may need to package. We're here to help. You can contact us on 802.425.2888 or sales@logicalmachines.com.
Additionally, we offer Tech Support from here in Vermont on 802.425.5360. Please let us know if you have any questions or issues. We look forward to assisting you.
Logical Q & A:
Did you know…? Some factoids about Vermont - A Small State with a Big History
Being a fan of keeping things simple and straight-forward here at Logical Machines, here are some interesting facts about Vermont. These are from the perspective of National Geographic Kids:
https://kids.nationalgeographic.com/geography/states/article/vermont
Some Green Mountain State facts include:
The Green Mountains extend 250 miles;
Formed over 400 million years ago, the rocks are thought to be some of the oldest in the world. This range includes the state's highest point, Mount Mansfield;
About 78 percent of Vermont's land is forest, which provides about 1.5 billion dollars worth of revenue for the state each year;
Vermont is the largest producer of maple syrup in the United States, turning out almost two million gallons a year—that's enough to fill about 40,000 bathtubs!
Vermont is bordered by Canada in the north, New Hampshire in the east, Massachusetts in the south, and New York in the west.
As well, Vermonters are known for being tough. Vermont may not be for everyone, but for most of us – it's incredible. Not only does Vermont have beautiful landscapes and endless natural areas to visit and live in, but Vermont also has exquisite food, safe cities, great schools, and amiable people. Vermont is an environmentally conscience place that focuses on healthy living styles and good social and environmental principals, which all make Vermont a welcoming and prosperous place to live.
Only In Vermont
https://www.onlyinyourstate.com/vermont/vt-tough/
Vermont is diverse in its influences, offerings, and industries. Its people are known for being hard-working, durable, and helpful. Similarly, Logical Machines' weigh+fill scale systems are also versatile, sturdy, and reliable. We regularly interact with customers who've owned their scale system for 10, 12, 15, even 22 years (which just happened) and their machine is still going strong. Made in Vermont. Vermont Strong.
National [fill-in-the-blank] Day: Gingerbread, Herbs & Spices, and Pecan Sandies + Logical Videos
5 June = National Gingerbread Day
You can use a model S-4 for weighing+filling powdered baking ingredients (e.g., video of 1 lb. Almond Powder)
10 June = National Herbs & Spices Day
You can use a model S-4 for weighing+filling a variety of Herbs & Spices (e.g., video of 3.5 oz. of Cajun Rub)
23 June = National Pecan Sandies Day
You can use a model S-6 for weighing+filling Cookies (e.g., video of 150g of Cookies)
In the case of any product, do feel free to consult with Logical Machines to determine the best machine model and full configuration.
Logical Quotable - In honor of Summer:
"And so with the sunshine and the great bursts of leaves growing on the trees, just as things grow in fast movies, I had that familiar conviction that life was beginning over again with the summer." — F. Scott Fitzgerald, The Great Gatsby
"The summer night is like a perfection of thought." — Wallace Stevens
"Summer afternoon—summer afternoon; to me, those have always been the two most beautiful words in the English language." — Henry James