Pet Food and Treats — Logical Q&A — Product Flow Videos — Factoids — National Dog Biscuit Day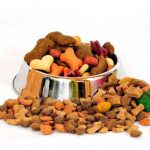 The Westminster Kennel Club Dog Show was held at Madison Square Garden in New York City from 11-12 February 2019. And the 2019 Best in Show was awarded to…"GCHB CH Kingarthur Van Foliny Home" -- a.k.a., King, the Fox Terrier (Note: That's the 15th time that a Fox Terrier has won)! In honor of King's big victory, and the fact that National Dog Biscuit Day is the 23rd of February, we're focusing on Pet Food and Treats.
Product, Process, and Packaging News:
Recently, Logical Machines gained another new customer: ElleVet Sciences, makers of "ElleVet Soft Chews - Full-spectrum cannabinoid soft chews and oil products for your best friends". After another successful product testing session, here in the Logical Machines HQ, we're happy to gain another happy customer.
Speaking of Pet Foods & Treats, Logical Machines is sharing a booth at the Natural Products Expo West in Anaheim, CA -- which has a wide variety of companies exhibiting, including 64 companies focused on the Pet Food & Treats category. We'll be there with Crystal Vision Packaging. CVP specializes in customized packaging solutions across a variety of industries. If you're in the vicinity of Anaheim, CA, between 6-9 March 2019, stop by Booth 3893.
Logical Q&A:
Q: "I'm hand-scooping pet treats that we produce into gusseted bags. How many bags of pet treats can I fill with a Logical Machine?"
A: If, for instance, you're filling three 4 oz. bags per minute of pet treats, by hand-scooping and hand-weighing, it's possible to increase the speed & accuracy of your bagging by upwards of 3x...which logically leads to an increase in your production and sales...
Logical Flow Videos: A model S-4 accurately weighing 4 oz. Dog Treats and 1 lb. Chewy Dog Treats
Factoids: Pet Food & Treats
National [fill-in-the-blank] Day
19 February = National Chocolate Mint Day
23 February = National Dog Biscuit Day
23 February = National Banana Bread Day
24 February = National Tortilla Chip Day
Logical Quote of the Week:
"A dog is the only thing on earth that loves you more than you love yourself." -- Josh Billings (a.k.a. - Henry Wheeler Shaw)