The Perfect Filling Machine for Coffee Roasters
The Model S-4 Automatic Scale System


Fall Special until 12/31/23!


$8,805

(Includes shipping & two spouts)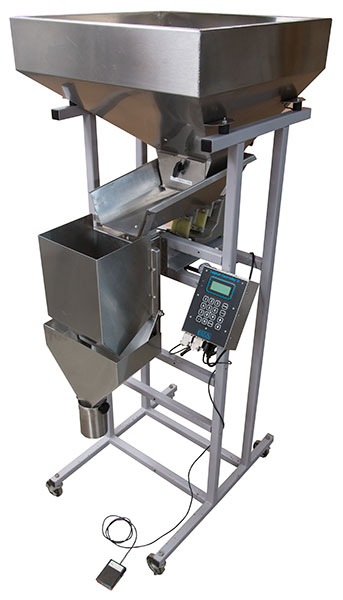 Limited on space? Ask us about our S-4 Table-Top Model


(does not include table)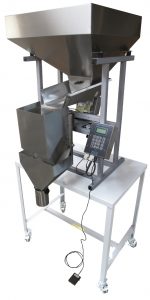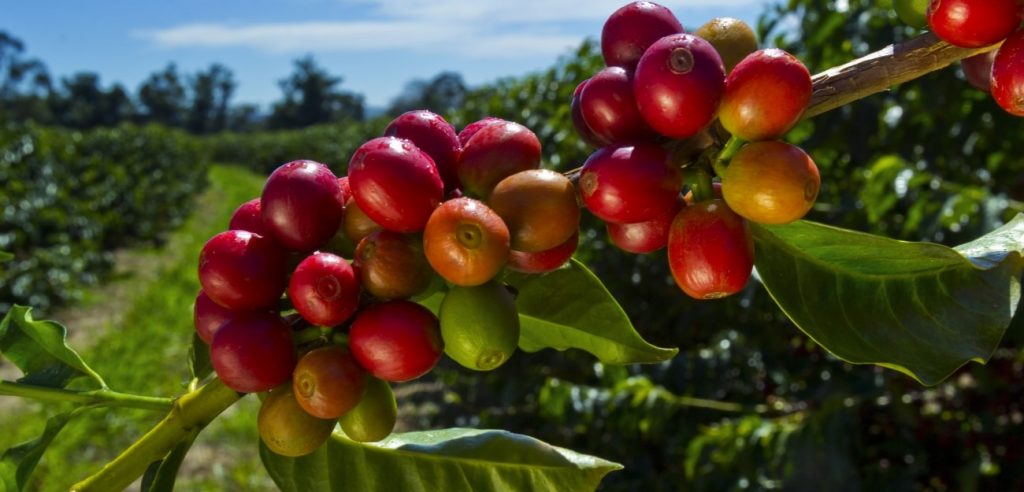 We understand the needs of coffee roasters and have sold over 500 coffee filling machines!
As a coffee roaster, you're looking for a filling machine that provides a simple, hassle-free solution to your filling needs. Your perfect filling machine would feature the following things:
Arrives fully assembled

Plug & Play!

Easy to set up, maintain, and operate

Allows you to start filling coffee quickly without a lot of fiddling with controls and settings

Has a proven user-friendly design and trouble-free reliability

Made in the USA
Features & Specifications
Standard Features Include:
Accurate to 1g or 0.001lbs; Dispenses to 2g or 0.002lbs

Controller range up to 10 lbs.

Supply Hopper capacity 3.5 cu. ft. (equivalent to 5 five-gallon pails)

Includes Standard chassis:

Powder Coated

Footprint 4.6 sq.ft.,

67" high floor model, 41.5" high table-top

4 locking casters

All product contact surfaces 304 stainless steel

120V 60Hz (240V 50Hz option for non-North American electrical systems)

Can be used with all bags and rigid containers

Automatic tare adjustment

On-the-fly, self-adjusting bulk & dribble speed control

Up to 800 fills/hour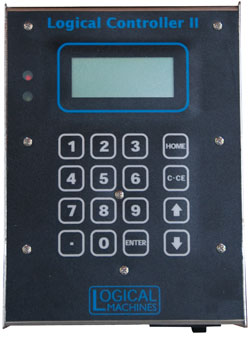 The Logical Controller II
Our exclusive SMART Mode makes filling coffee easy!
Smart Mode allows the Logical Controller II to learn how your coffee flows and automatically adjust its parameters on-the-fly to maximize accuracy and speed. In a matter of minutes, your Coffee Filler will be filling bags with no need for you to adjust, tweak, or fiddle with a single control setting.
Setting up your Coffee Filler is a snap: once you've unpacked and prepared your Coffee Filler according to the provided instructions, just follow these 3 simple steps to start filling coffee:
1) Turn on the Logical Controller II (The switch is on the bottom of the Controller.)
2) Fill the Supply Hopper at least half-full with your coffee. (Don't forget to put one of your containers under the spout!)
3) Press the footswitch to start filling your coffee.
That's it! The Controller will continue to refine its accuracy and speed on-the-fly as it fills.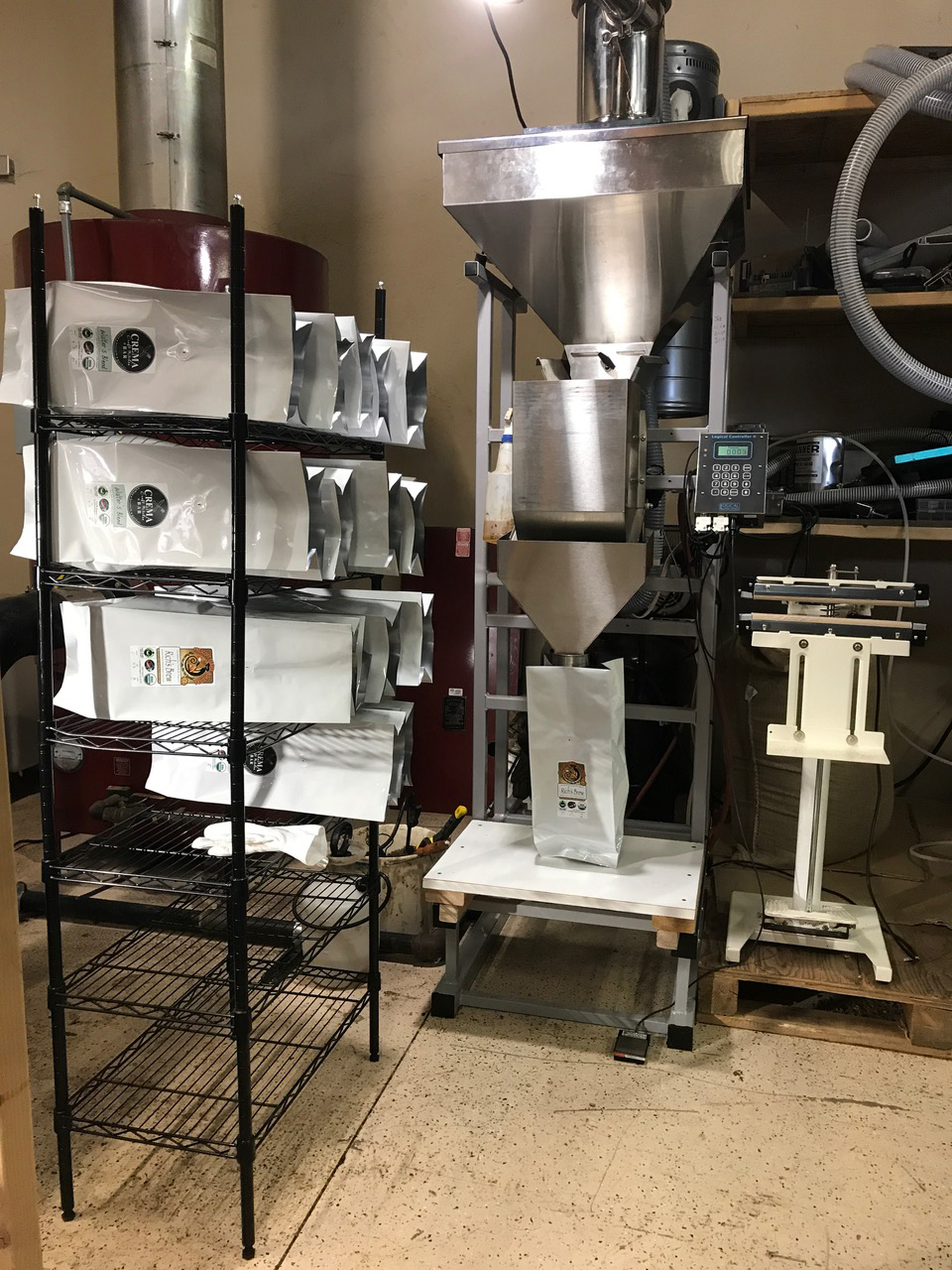 Prescott Coffee's shop showing the Model S-4 and a bag sealer ready to go!
Prescott Coffee
"I have a small wholesale coffee roasting business where I sell 450-550 pounds of roasted coffee each week. Since the roaster I use doesn't have automation, I needed to make the rest of my process more efficient. The S-4 Semi-Automated Scale System was a great fit to my destoner / loader.
"I hadn't realized how much of a distraction filling bags had been until I had the new system up and running. Being able to switch between three bag sizes at the push of a button has been a real bonus. The S-4 can handle many more bag sizes if I need something beyond 1, 2, or 5# pounds. By the time I finish sealing and placing the bag on a shelf the next 5 pound bag is just finishing being filled.
"The surfaces of the machine are easy to keep clean. There is no other real maintenance needed. I can check the calibration of the weigh system easy enough and re-calibrate it if necessary, but so far it is solid. This is one of those purchases I could have done years ago and benefitted greatly."
Richard Gregory—Owner, Prescott Coffee Roasters
www.prescottcoffeeroasters.com
If you're interested in contacting Richard, please visit the Prescott Coffee Roasters website. He'd be happy to show you how well the S-4 fits in to his small business!
Other Testimonials
"Our S-4 has been incredible and absolutely trouble-free for 10 years. We've run hundreds of thousands of pounds of coffee through it." 
Brett, Java Java Coffee
"Love that Machine!" 
Gary Dillon, Trillium Coffee 
"Best money I have spent in my life."
Jeff Muma, Waupaca County Coffee