Introducing our new Quote Generator!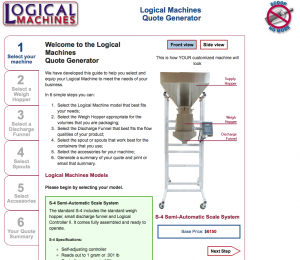 We've just released our new 
Quote Generator
 into the wild! Our previous version had only the S-4 Semi-Automatic Scale System. Now you can select from our entire line of Scales including the S-4 Semi-Automatic Scale System, the S-5 Bulk Scale System, the S-6 Cascading Scale System, and the S-7 Dual Lane Scale System.
• Select the right Scale System that fits your filling needs.
• Customize it with the weigh hopper, discharge funnel, and spouts that will work for you.
• Choose from our selection of optional accessories such as heavy duty vibrators, bagging machine interfaces, or dribble feed gates.
When you're finished customizing you scale, you'll have an instant quote ready to go!
Of course, if you have any questions we'd love to talk with you directly. Just give us a call at (802) 425-2888 to discuss your filling needs. We'd be happy to step you through the process and guide you to finding the Scale System that's right for your small business!